Ageless Radiance™, 30 Capsules, $37.95
Manufacturer: EuroPharma/Terry Naturally
Condition: New
Healthy skin from the inside out!
Ageless Radiance™ increases skin firmness by 55% and skin radiance by 62%!†
Sun, wind, oxidative damage, and age all take a toll on natural beauty. Ageless Radiance is a proprietary blend that stimulates the skin's healthy rejuvenation process, safely and effectively. French grape seed, SuperOxide Dismutase (SOD-B®), zinc citrate, vitamin C, boswellia, and curcumin combine to:
Even out skin tone and pigmentation
Reduce dark circles
Fade areas of redness and other imperfections
Revitalize dull complexions*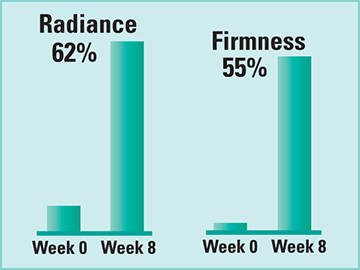 † L'emerelle™ Complex was clinically tested in France, on 35 healthy women who complained of a dull complexion. Participants received 150 mg of the complex per day for 8 weeks.
VEGAN NON-GMO
If pregnant or nursing, consult a healthcare practitioner before use.
---
Better Nutrition
BEST OF NATURAL BEAUTY
Award Winner 2017
Delicious Living
BEAUTY & BODY
Award Winner 2017
* THESE STATEMENTS HAVE NOT BEEN EVALUATED BY THE FOOD AND DRUG ADMINISTRATION. THIS PRODUCT IS NOT INTENDED TO DIAGNOSE, TREAT, CURE OR PREVENT ANY DISEASE.